Global Perspective on Local Real Estate
www.bric-investment.com
rotonda lakes, englewood plot selection
A good sized lot in one of the quieter residential quadrants in Rotonda Lakes, not far from the waterfront. The lot has full infrastructure in place; all electric, sewer and water installations have been paid for. Rotonda Lakes is a planned community, just 5 miles from the beautiful beaches of the Gulf of Mexico in southwest Florida between Sarasota and Charlotte Counties. This sought-after residential development is within easy reach of employment opportunities in nearby Fort Myers and Tampa Bay, two hotspots for job creation in Florida, making it attractive to relocating families. Tourists too favor Rotonda Lakes for its onsite leisure facilities that include a total of six golf courses and over 30 miles of waterways with some of the best fishing and boating opportunities in the state. The nearby town of Englewood offers good amenities including shops, schools and leisure activities. Downtown Englewood is particularly attractive while its peaceful beaches are home to Florida's signature wildlife such as dolphins, manatees and water birds.
rotonda lakes plots
freehold title
plot:

FL-ROT-21-26

plot size: 7,500

sq.ft

(697 m2)
allowable build area: 2,250

sq.ft

(209 m2)
BRIC
sale price
US$26,500
finance: US$15,500 12 x US$1,000

per month

HOA: US$80

per annum

plot tax: US$299

per annum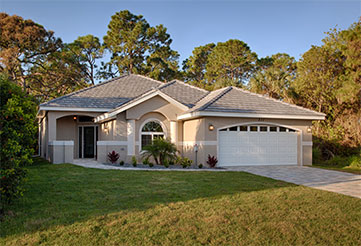 Off-plan Upgrade
Three-bedroom, single-family homes are currently in high demand in the Englewood area and command high monthly rental. To maximise the investment potential of this opportunity, we offer an economical build package, at a significant discount to retail prices, that can be completed and ready to be released into the rental market within 25 weeks. This package includes all planning permission applications and approvals, site preparations and build costs.